A priest takes to the NASDAQ to talk about human well-being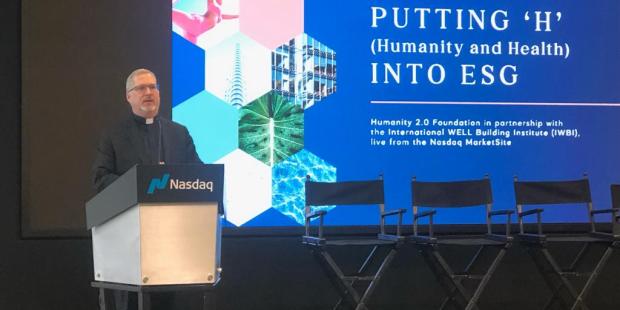 "The richness of the Catholic philosophical tradition, for example, can shed incredible light on issues that are currently being debated in the technological field such as artificial intelligence or robots."
On February 28, Fr. Philip Larrey chaired a discussion forum, live from the NASDAQ Marketsite, titled "Putting 'H' (Humanity and Health) Into Environmental, Social and Corporate Governance." Pr. Larrey is Dean of the Department of Philosophy at the Pontifical Lateran University (Rome) and President of Humanity 2.0, a non-profit organization aimed at bringing together actors to promote human flourishing and the goals of Laudato Si'. Prof. Larrey spoke to Aleteia about how the Church can help others improve human well-being and about her plans to advance this goal at the Vatican.
What is the discussion forum at NASDAQ about?
The event at the NASDAQ Marketsite combines Humanity 2.0 and the International WELL Building Institute. One of the co-founders of Humanity 2.0, Morad Fareed, is also a co-founder of Delos, a company focused on building standards. There is a subset of Delos called the WELL Building Institute International, which tries to use scientific information to help us build better buildings. 90% of our day is spent indoors, so they want to understand how buildings affect human beings and how we can make them more suitable for us.
They look at things like air filtration, natural lighting, paint color on the walls, spaces in the hallways, how communication is done during working hours or in the building, etc. They proposed the WELL Building Standard, a certification that proves that building allows human beings to flourish. Some examples of certified buildings are the Empire State Building and Yankee Stadium in New York, or the Googleplex headquarters in Mountain View, California. They are now helping us to obtain this certification for the Pontifical Lateran University.
What is Humanity 2.0?
Humanity 2.0 is a non-profit foundation founded in 2018, whose primary purpose is to identify and overcome or remove barriers to human flourishing. We understand flourishing as creating an environment where human beings can achieve their goals of self-realization. We view human flourishing as a new way to indicate a nation's wealth, it is no longer just about gross national product or economic development. There are various organizations around the world that we work with that try to quantify what human flourishing means, such as the Human Flourishing Program at Harvard University.
One of the things I'm very proud of at Humanity 2.0 is making worlds that don't usually meet talk to each other. We create an environment in which actors or companies that never engage with the Vatican or with the Church can realize the value we bring to issues. Every year, Humanity 2.0 organizes a forum in the Vatican to bring together business leaders, academics and people involved in politics or social policy, to try to discuss important issues, so that we can advance the agenda of Laudato Si', or what we now call human flourishing. We have not been able to organize it for two years due to the pandemic but it will take place next May.
What unique perspective can Catholics or the Church bring to issues of human well-being or the environment?
Catholic social doctrine. The richness of the Catholic philosophical tradition, for example, can shed incredible light on issues that are currently being debated in the technological field such as artificial intelligence or robots. The issues emerging from Silicon Valley are vital and the Catholic philosophical tradition is a good way to frame them. People in Silicon Valley wonder what is the relationship between body and soul or is there life after death, and they have never considered a Catholic point of view. So I suggest, why not look at Thomas Aquinas, or Augustine. We try to translate the language that engineers use into what the Catholic tradition can offer.
Why are you trying to implement the WELL Building Standard at the Pontifical Lateran University?
It is a way of concretizing the ideas of Pope Francis in Laudato Si'. He doesn't use the words 'human flourishing', but when he talks about the care of creation, I think we can understand him in the same sense. Laudato Si' It's about reducing the impact of economic progress on our ecology and climate change and caring for the earth, but it's also about how we can help people better achieve their goals and create a environment in which people can thrive and be healthy. It is important to build something that promotes human interactivity and fosters relationships between us. When people thrive, they can also do their jobs better.
Many people who do not usually associate with the Catholic Church have read Laudato Si' or discovered its principles and became very interested. We would like to renew this interest and continue to encourage it.
How has the University certification process gone so far?
With a dedicated committee, we've been tackling this for about 7 months now, and it's a pretty meticulous process. We have just improved our air filtration system, for example.
Another example is the smoking area. To obtain this certification, the building must be smoke-free. Obviously, smoking inside is prohibited and has been for many years; at the University, you can only smoke outside. However, the standard states that the smoking area must be at least 10 meters from the doors, otherwise it's almost like you are smoking in the building.
The entire University complex is scrutinized centimeter by centimeter, because the WELL Building Standard is very demanding. I hope we will get the certification during this year.
Are there other Vatican buildings that have gone through this process?
The Pontifical Oriental Institute, led by the rector, Fr. David Nazar, has also renovated several of its spaces under the WELL Building Standard. For example, one thing they looked at in classrooms was the effect of echoes. They found that when a professor spoke, students listened with a two-second delay due to echo and room acoustics. They were able to bring this down to zero through work on the construction of the classroom. He found that productivity increased for students and faculty and their classroom experience was much better than before.
What could a future collaboration between WELL Building Standard and the Vatican look like?
Every Vatican building should be certified, that's the goal. We're taking baby steps for now though. The Pontifical Lateran University will probably be the first to be fully certified. Cardinal Czerny, for example, also showed interest in the idea. It is an ambitious goal but we want to try to do, for the whole Vatican, what Pope Francis hopes for and expresses in Laudato Si'.