All schools must reopen for children's physical and mental well-being: Docs | Nagpur News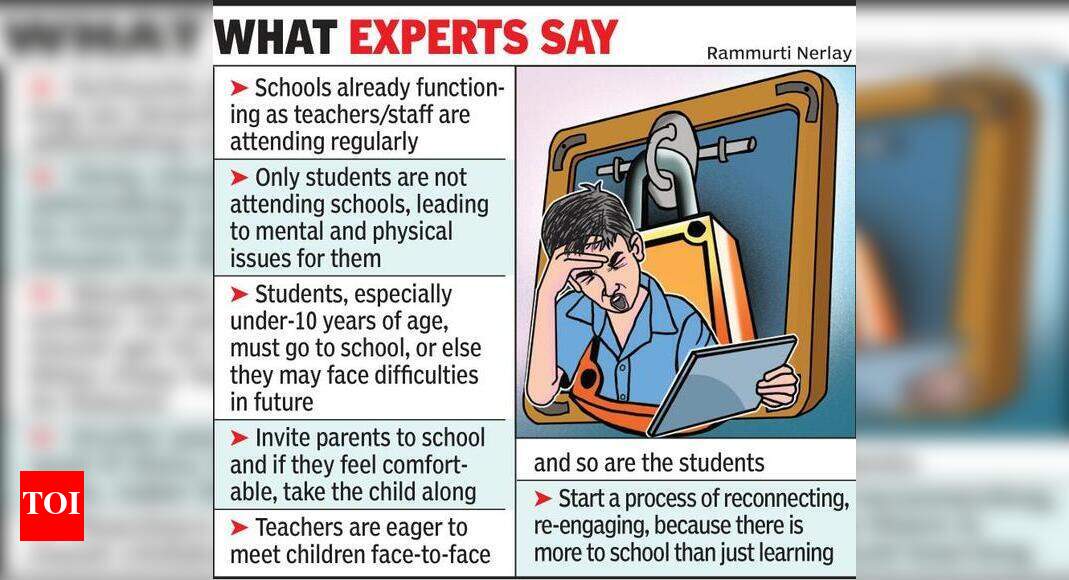 Nagpur: The devastating second wave of the Covid-19 pandemic has finally receded and it looks like the predicted third wave will be of low intensity compared to the first two. Faced with this, calls for the reopening of schools are now increasing.
TOI spoke to child and adolescent psychiatrists, pediatricians and infectious disease specialists in Vidarbha and all strongly said that schools for all grades – from primary and pre-primary – should be opened immediately.
"Children are already mingling with each other in all parts of Maharashtra. They play together, travel with families, go to malls and markets, etc. So why not at school? Said Dr Vijay Dhote, President of the Nagpur Academy of Pediatrics.
"The configuration of the school is essential for the physical and mental development of children. As members of the Covid task force, we have consistently suggested, both at district and state level, to reopen schools. But the final decision should only be taken by the government, "he said.
A senior member of the Covid State Task Force told TOI that the experience of reopening schools in rural Maharashtra is promising as no increase in cases has been observed there.
"Children under 10 are largely immune to Covid-19 infection. There is therefore no risk in allowing the reopening of schools at least after Diwali, "said the member.
Infectious disease specialist Dr Nitin Shinde said children under 7 are hardly contagious.
"The wait to see the incidence of the disease is now over. No need to wait more than a few weeks from now to reopen all the schools, "he said.
Schools now need to switch from cleaning surfaces to ventilation, says Dr Shinde. Vaccination of all adults in the school should be mandatory, and the local civic body can still perform random testing on adult staff and symptomatic children.
"Whenever possible, physical distancing should be respected in schools. We have to move forward now, "he added.
Child and Adolescent Consultant Psychiatrist Dr Pritam Chandak said we spent over a year trying various things.
"We were waiting for a golden moment like 'zero Covid' before reopening the schools. It won't happen, "he said, adding that there would be intermittent cases and therefore we need a flexible response to eventualities.
"The homeschool culture has dramatically increased mental and behavioral issues like depression, anxiety, irritability, aggression, sleep disturbances in children," he said.
While suggesting the way forward, Dr Chandak said previous schools operated on an annual schedule, but now we need to break this down into quarterly schedules, as in many other sectors.
"We should think that from now until Dussehra in October, we want our children to have some school experience," he said.
FacebookTwitterLinkedinE-mail