David Mastovitch | How to Capitalize on the Consumerization of Healthcare | Company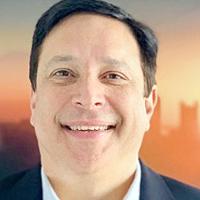 The COVID-19 pandemic initially closed access to in-person visits for non-emergency conditions, which obviously impacted the healthcare industry.
Telehealth has gone from being barely used and often unfamiliar to consumers, to becoming something people realize, "Whoa, it works. I don't have to go to my doctor for work for everything.
The doctors replied, "Whoa, I can actually get paid to do this a lot easier on Zoom or on screen."
Providers saw it as a way to get another revenue stream, and patients, we the consumers, saw it as a way to get what we wanted, when we wanted it, faster.
Consumers have embraced care outside of the traditional doctor's office during the pandemic.
According to the April 2021 PwC Health Research Institute Clinician Survey, 77% of clinicians said that "new, non-traditional places of care have provided acceptable patient outcomes."
This included retail locations, concierge medicine, old-fashioned house calling, and the ever-popular and convenient telehealth.
The hospital emergency department is finally becoming what it should be – a place of last resort instead of going to the emergency room for a minor visit or the sniffles, so to speak.
It will not return to the pre-pandemic level.
Having a hospital and healthcare system background, I know that ERs have often been used so much for non-acute reasons and non-serious situations. For decades we have tried to change this scenario. Who would have thought that COVID-19 has finally brought change to where emergency rooms are used for emergencies? Imagine that.
Throughout my life I've learned that when a crisis hits you do whatever you can to get through it healthy and alive, and if you're in a business you do whatever you can. to maintain your business.
But you can also maximize the opportunities of this crisis.
The consumerization of healthcare through telehealth and other means has become acceptable and practical in part because of COVID-19.
What does this mean for a healthcare marketer, a medical marketer? The consumerization of health care presents you with an opportunity if you market a medical practice, physical therapy, occupational therapy, wound care, Medicare Advantage plan, or health care system.
And this leads to a downward trend in costs, so the increase in medical costs has decreased.
The increases are smaller because we can get more care for less through telehealth and other means.
What does this mean for doctors and their patients? First, patients are not patients.
How many of us are patient when we buy something?
When we queue and wait, we look at how long it took. I don't know too many people who are patient.
You have to play this to your advantage and say, "I'm going to talk about how technology has made it easier for us to do things like patient planning. » You want to prove that you can benefit from convenience and speed.
Healthcare marketers can also capitalize.
Healthcare teams and healthcare organizations need to realize that they are technology companies too.
You must have a technological history of how you provide care in a convenient way, how planning and billing, healthcare coverage and insurance coverage can be done in a fast and technological way.
There are now over 50,000 health apps. We, the consumer, realize that it's quick and easy for us to try an app.
So many of my clients over the past three years talk about software and app upgrades they've made, but they don't maximize them, and patients don't know how to use them, or patients consider them clumsy , inefficient.
This is because the story was not designed to explain that we are a healthcare company. We're also a technology company, and we're now doing these things that make it faster and easier for you to do what you need and get what you need, and explain how to use it, and if it's 's hard to use, you gotta blow it up and get something else.
If you have telehealth and you're using digital more, you need to promote it and tell that story in a memorable way, and that story needs to be told visually and through multiple channels, because you're trying to reach anyone who from 15 to 50 to 75 along the way.
If you are in a seniors' residence, you affect an adult child and the actual resident. If you are in a doctor's office, you might have a referral marketing source because other doctors are referring you.
The COVID-19 pandemic has inadvertently created an opportunity or innovation. This has led to the consumerization of healthcare.
You can turn this crisis into opportunities to help your patients and help you grow your healthcare practice or business.
David Mastovich is founder and CEO of MASSolutions, host of the "No BS Marketing" podcast and author of the book "Get Where You Want to Go Through Marketing, Selling and Story Telling".