Film shows life, death and happiness of Japanese people in Manila slums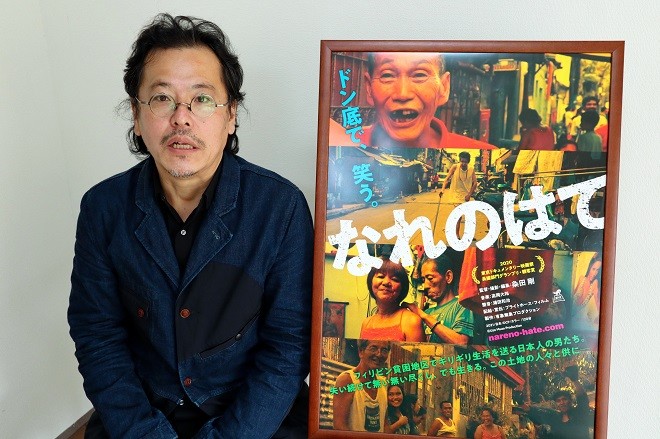 Tsuyoshi Kumeta first visited the Philippines in September 2012 to see if he could create a TV program about Japanese men who follow Filipino women to their home country after working in the life industry. nightlife in Japan.
Although the TV show project was scrapped, Kumeta, a freelance video director, continued to travel to the Philippines at his own expense 20 times in seven years, and he met more than 50 Japanese men living in poverty in from the slums of Manila.
Some of them, including a retired policeman paralyzed on one side from a stroke, as well as a former Yakuza member who lives in the attic of a bicycle shop while working as a cleaner toilets, are featured in Kumeta's documentary titled "Narenohate" (The Outsiders).
The film won the feature film division grand prize at the Tokyo Documentary Film Festival 2020.
Real-life characters portray themselves in tones of self-mockery for having brought on themselves misfortune.
Kumeta, 52, said he had asked himself on several occasions, "what do I really want to shoot" and "what kind of movie should I make", when he recorded over 200 hours of footage in the slums of Manila.
Kumeta was interested in creating visual products when he was in college. He went to see "Sailor Suit and Machine Gun" because Hiroko Yakushimaru starred in the film, but he found himself strongly drawn to the imagery techniques of director Shinji Somai.
His parents bought him an 8-millimeter film camera when he was in high school, and he joined a filmmaking club in college.
After graduating, Kumeta began working as a freelance video maker for tourism promotion campaigns as well as pornographic titles.
He was also an assistant director and today mainly develops TV programs and public relations sequences for companies.
As a freelance writer, Kumeta could at times just bite the bullet and keep up with requests from broadcasters, businesses, and other clients to create image products that did not match his personal taste.
"I would love to dance in my own style at least once instead of performing to meet customer demands like a 'cinematic geisha'," Kumeta recalls.
The words of a Japanese man in the slums of the Philippines also encouraged Kumeta.
"I want a lot of people to learn that such a man exists here," Kumeta said, citing the man. "I want you to help me achieve this. "
The man died before the end of "Narenohate".
Kumeta felt uncomfortable every time he returned from the chaotic living conditions of Manila and saw Japan's neat cityscapes.
The men he met in the Philippines have failed to find a place in such neat environments, and anyone can face the same difficulty at any time, the filmmaker said.
Kumeta spent about a year re-examining his images before he began to think that "a movie can be made" by putting the images together.
He said he tried not to put too much effort into making the movie entertaining.
When asked what message he wanted to convey through the film, Kumeta replied that he had "nothing" to say.
"I want observers to see firsthand how men live and how they die," he said. "What is life like? How is happiness? My hope is that every viewer can find something through the work.
"Narenohate" is screened at K's Cinema in the Shinjuku district of Tokyo until January 14. It is also screened at the Kobe Art Village Center complex in Kobe until January 14 and is scheduled to screen at the Dai Nana Geijutsu Gekijo theater in Osaka. from January 22.