Happiness plays brilliantly on people's mindsets in a post-Covid world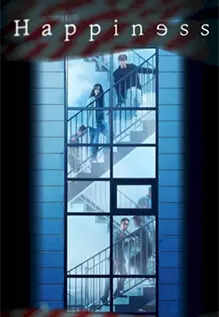 Narrative:
The plot of "Happiness" is set in the post-
Covid
era where people now have to deal with an infectious disease, the origin of which is suspected in a now banned pharmaceutical drug. When Yoon Sae-Bom is infected with the disease after a colleague bites her, it sets off a chain of events.
Review: Truth be told, the zombie dramas that originated in South Korea have gotten a bit boring. Although "Happiness" doesn't overtly incorporate zombies into its plot, the signs are definitely there. That said, while the 12 hour-long episodes might seem like a lot and sometimes test your patience, this action horror comes across as an effective K-drama that keeps you sufficiently invested. By setting the plot in a post-Covid era, 'Happiness' essentially plays on our fear in the wake of a pandemic and the mutual distrust that people have now developed towards each other.
As the world barely recovers from the Covid situation, a pharmaceutical drug called Next, is about to unleash another havoc. Rejected after its first trials, Next somehow finds its way to market. The pill becomes the cause of a deadly infection which is characterized by thirst for water and madness in the infected person. It spreads after a person has been bitten by the infected person. The plot begins when Sung Sae-Bom (Han Hyo-Joo) and Jung Yi-Hyun (Park Hyung-Sik) are students at a school. After establishing their characters, the plot immediately jumps 12 years and shows them both employed and well-settled in their jobs. While Sung has now become a Private Corporal in the Special Operations Unit, Jung is now associated with the Hayang Police Unit. When Sung is bitten by her own colleague, she is infected with a deadly disease and it sets in motion a chain of activities.
"Happiness" is an unusual zombie drama because here the zombies actually find redemption. They can improve, so to speak, and can come back from the undead. The series focuses on its main characters – masterfully played by Sung Sae-Bom and Jung Yi-Hyun, tackling a brewing zombie crisis. Things are getting tougher with a government lockdown in place and restrictions piling on one another. This K-drama also shares similarities with its predecessors, as class division and opaque government control are also a key statement in this story. But it has enough surprises and twists to keep you busy for its 12 episodes. While the couple remains at the forefront of the story, the plot also has secondary characters who are equally important and somehow push the story in a meaningful direction. As the story progresses, it shows empty promises and people's false nature slowly comes to the fore. It brilliantly plays on people's "new mindset" in a post-Covid scenario.
As the couple move into the government apartment, viewers are introduced to many interesting characters who add another dimension to the story. In a nutshell, viewers discover characters where gray dominates the rest of the shades. To be honest, the apartment dwellers turn out to be the most interesting characters. Although the last episode feels somewhat rushed, as most events are brought to their conclusion, it is a satisfying finale. There are many plot holes, but the pacing is such that you don't really care about those holes.
This action drama is very fresh and contemporary and ultimately manages to wrap it all up neatly. Thanks to the writing team for putting out characters that look unique and distinct and stick with you for a while. "Happiness" is a slice of humanity at its best and its worst in a world that has now changed forever. With 'Happiness', the K-drama juggernaut continues.