How innovation and responsibility contribute to patient well-being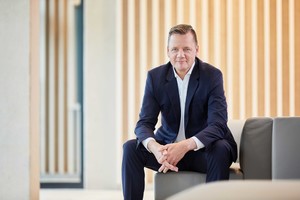 In the healthcare industry, changes are happening at a rapid pace. People, machines and information are increasingly interconnected. Meanwhile, unforeseen events such as the Covid-19 pandemic are also affecting the pharmaceutical and biotechnology industry. To meet the needs of our customers, innovations at the interface between pharmaceutical products, services and digital data must be accelerated. As a global leader in contract development and manufacturing (CDMO), Vetter is continually committed to this speed of change. This is achieved through the testing of future technologies and the implementation of new digital systems where necessary. Considering all the variability that occurs within the industry, there is only one constant at Vetter: sustainably improving the quality of life of patients thanks to the drugs we produce.
Vetter has an important responsibility. The injectable drugs we manufacture for our customers will, in turn, have a direct impact on patients around the world who depend on these drugs for their overall health and quality of life. As a family business, Vetter knows that achieving the highest possible level of quality is key to our overall strategy. In fact, digitization has been behind many of the advancements the company has made in recent years. And while digital transformation is ingrained in Vetter's overall culture, it is not a selfish approach to pharmaceutical manufacturing. Rather, it is an essential part of the work of the people who work at Vetter and allows us to support the quality of the products we make.
Through our work, we produce essential therapies for, for example, the treatment of cancer, rheumatism or multiple sclerosis, as well as drugs for rare diseases. This is why regulatory specifications in the pharmaceutical industry are very restrictive. We know that people's lives depend on the drugs we produce. Therefore, reliable, efficient and safe processes are the essence of our industry. For Vetter, this means overcoming higher complexity and reaping the many benefits of digitalization.
No time to wait
At Vetter, we have made digitization part of our daily activities. Our corporate strategy, Vetter NExT 2029, is developed in cooperation with our employees in virtual workshops. In fact, many of the ideas and challenges that emerge from these workshops directly influence our digital roadmap. For example, as part of the digitization of central key processes, future factory processes are part of our goal. We cover topics such as predictive maintenance, remote visual services, or intelligent worker assistance systems to dramatically reduce downtime and troubleshooting. We have also implemented artificial intelligence (AI) within the company through the successful use of machine learning systems. In addition, we are working on exciting projects such as generating text from data – the so-called natural language generation, as well as launching complex forecasting projects in the context of monitoring. In the future, we will rely on the automation of robotic processes for recurring and clearly defined tasks.
Innovation on an ongoing basis is what we consider to be an integral part of our responsibility. This is what we hope to achieve as a company. Thus, many of our digital infrastructures are fully developed in-house and pave the way for important skills that will play an increasingly important role in the future. There is no time to wait. Our customers and patients around the world rely on us. This is what drives us on a daily basis.
At the center of everything: our people
The implementation of digital processes concerns the key processes that are essential at Vetter. As part of our comprehensive digitization strategy, we focus, among other things, on projects in the areas of production, quality and supply chain. The administrative sector is also faced with a wide variety of digitization projects.
Without a doubt, digitization is increasing. For this reason, the activities and procedures that make up our work are also changing. Every day we approach the question of how we can achieve this change in a sustainable and successful way. We believe the answer is to have employees who are confident, passionate and comfortable with the application of new technologies. For over 70 years, our people have played a key role in the evolution of our business. Today, they represent a force of approximately 5,500 people on three continents and are, without a doubt, the most important success factor of our digital journey.