Physician Leadership Academy honors graduates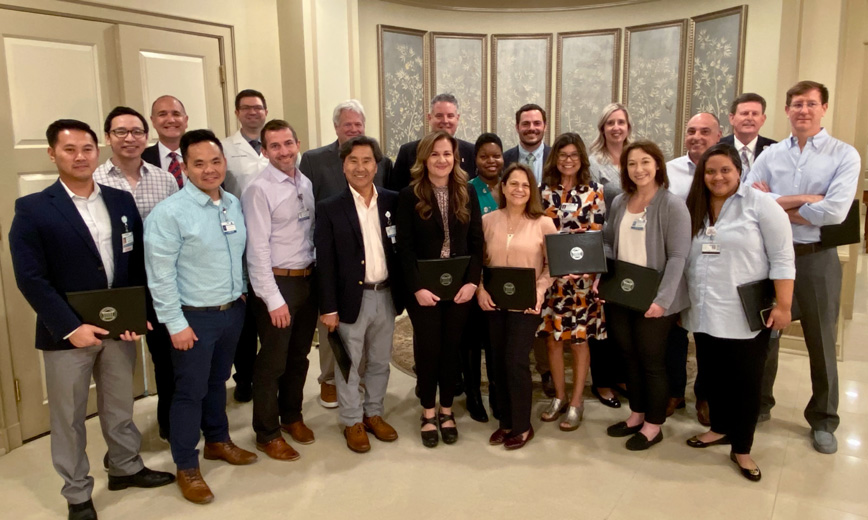 McLEOD REGIONAL MEDICAL CENTER

APRIL 14, 2022
McLeod Health is pleased to announce the 2021 Physician Leadership Academy graduates. Participants were honored at a graduation ceremony on April 12, 2022.
The Physician Leadership Academy is a ten-month educational program designed to prepare physicians for leadership roles within their practice and the healthcare system. With the rapid changes in health care, physician leadership and collaboration within a health system is critical to providing effective, high quality care to our community. Integrated, physician-led healthcare systems like the Mayo Clinic and Cleveland Clinic are often cited by our peers as models for future healthcare delivery systems. It is impossible to imagine an integrated system without significant physician leadership.
To promote these qualities within his own organization, McLeod established the Physician Leadership Academy. Led by McLeod Health's Chief Medical Officer, C. Dale Lusk, MD, and Vice President of Physician Recruitment and Retention, Tiffany C. Ellington, the program's program included seminars led by recognized experts regionally and nationally on a variety of topics such as Change Management, Emotional Intelligence, Healthcare Financing, Quality and Safety and Team Building.
The McLeod Health Physician Leadership Academy class of 2021 included medical staff Roberta A. Alsworth, PA-C; Mohamed Bassiouny, MD; Lyndsi R. Cress, DO; Kevin M. Dineen, MD; Khaled F. Elraie, MD; Rachel Allyn Fenters, DO; Elena I. Gore, MD; Raymond R. Holt, MD; Ashleigh A. Hotaling, FNP; Robert E. Hunter, MD; Donny V. Huynh, MD; John Y. Karl, MD; Jeffrey S. Lindaberry, DO; Matthew S. Lucky, DO; Jeremy R. McCallum, MD; Melissa A. Miara, DO; Vijeyaluxmy Motilal Nehru, MD; Vasiliki Papathanasiou, MD; Thomas S. Rives, MD; Susan M. Stuber, MD; Kishore R. Subnani, MD; Joseph R. Szulewski, DO; Joseph B. Villanueva, MD; Christopher R. Walsh, MD; Matthew G. Weeks, MD; Allie G. Whitley, DO; Marshal Scott Wise, DO; and Chue Xiong, MD. The 2021 administrator graduates included Kelly G. Hughes, Logan C. Sawyer and Dorothy A. White.