Saving young lives through addiction education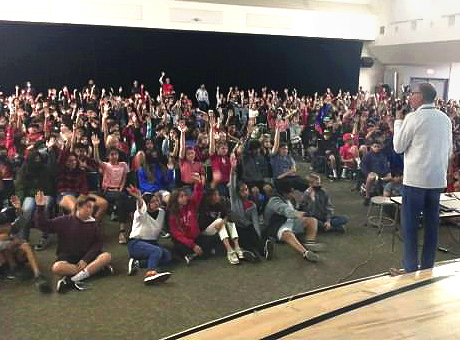 The SDCOE has focused on comprehensive drug prevention education for decades, often working in conjunction with government and community organizations to ensure districts and schools are connected to partners who can help them in their prevention, intervention and treatment efforts.
"We believe it is in the interests of young people and family members to be informed and have the tools they need to make smart choices that impact their own well-being," said the county superintendent of schools, Dr. Paul Gothold.
Members of the Student Safety, Wellbeing, and Engagement team are currently holding town halls and classroom presentations at schools across the county about the dangers of fentanyl, marijuana, and other drugs, and encouraging schools to pursue conversation by providing additional information and lesson plans. from local and federal sources.
SDCOE has also worked over the past few years to help schools get free naloxone, the opioid reversal drug, for their campuses and offers training on how to administer the drug.
There has been no legal requirement for schools to provide drug prevention education since 2009, which is why the SDCOE is working with local leaders to change state law.
The County Board of Supervisors took a step to support this effort when it recently passed a motion directing the county to work with education officials and the California state legislature to mandate drug prevention. , especially around fentanyl, in the classroom for students. The county also plans to increase distribution locations and parent and student training on naloxone, the opioid reversal drug, and explore opportunities for additional funding to support drug and alcohol awareness programs. alcohol on campus.
"SDCOE is deeply committed to the success and well-being of every child," Gothold said. "To achieve this goal, we need a holistic, community-based approach to mental and physical health.