Special room renovations at McLeod Health Cheraw to benefit hospice patients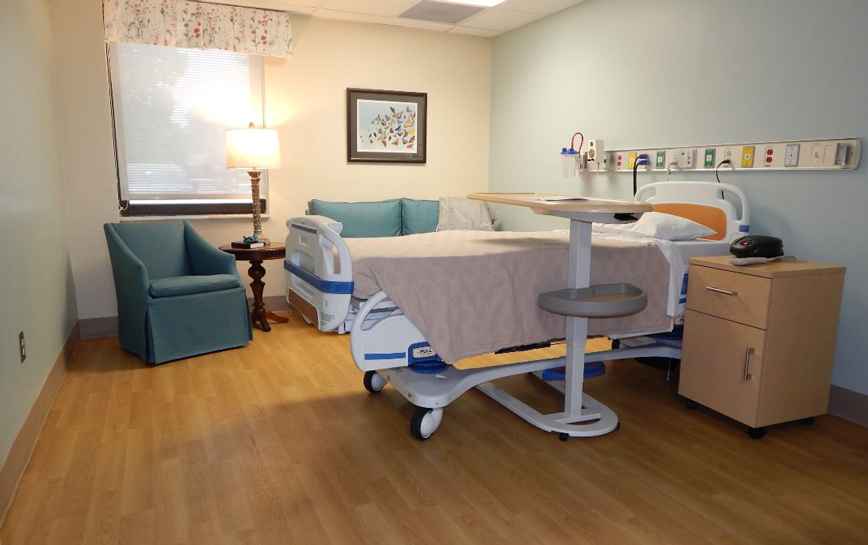 McLEOD REGIONAL MEDICAL CENTER

JUNE 17, 2021
Through collaboration with McLeod Hospice and the McLeod Health Foundation, a patient room at McLeod Health Cheraw has been renovated to specifically serve McLeod Hospice patients requiring hospitalization.
A patient's environment can be crucial in maintaining comfort and peace of mind during a terminal illness. "The patient room is spacious and located at the end of the main medical-surgical hall, allowing for a more serene experience," said Bren Lowe, administrator of McLeod Health Cheraw. "The renovations make the dedicated room better suited to the comfort and privacy of terminally ill patients and their family members. In addition, the size of the room allows family members to be with their loved one in a comfortable and warm environment.
"This new inpatient palliative care room at McLeod Health Cheraw is an important milestone in the care McLeod Hospice already provides to our community," added Lowe.
According to Jill Bramblett, executive director of the McLeod Foundation, residents of Chesterfield and Marlboro counties strongly support McLeod Hospice. "McLeod Health Cheraw's remodeled patient room is designed for the comfort and care of McLeod Hospice patients and their families. Additionally, the community benefits from this effort as well, as it allows us to bring the features of the McLeod Hospice Home closer to those who live in Cheraw and surrounding towns.
The funds to renovate this patient room were donated by a generous donor from Cheraw to help these patients and their families in times of need.