The language of well-being: Tears and rainbows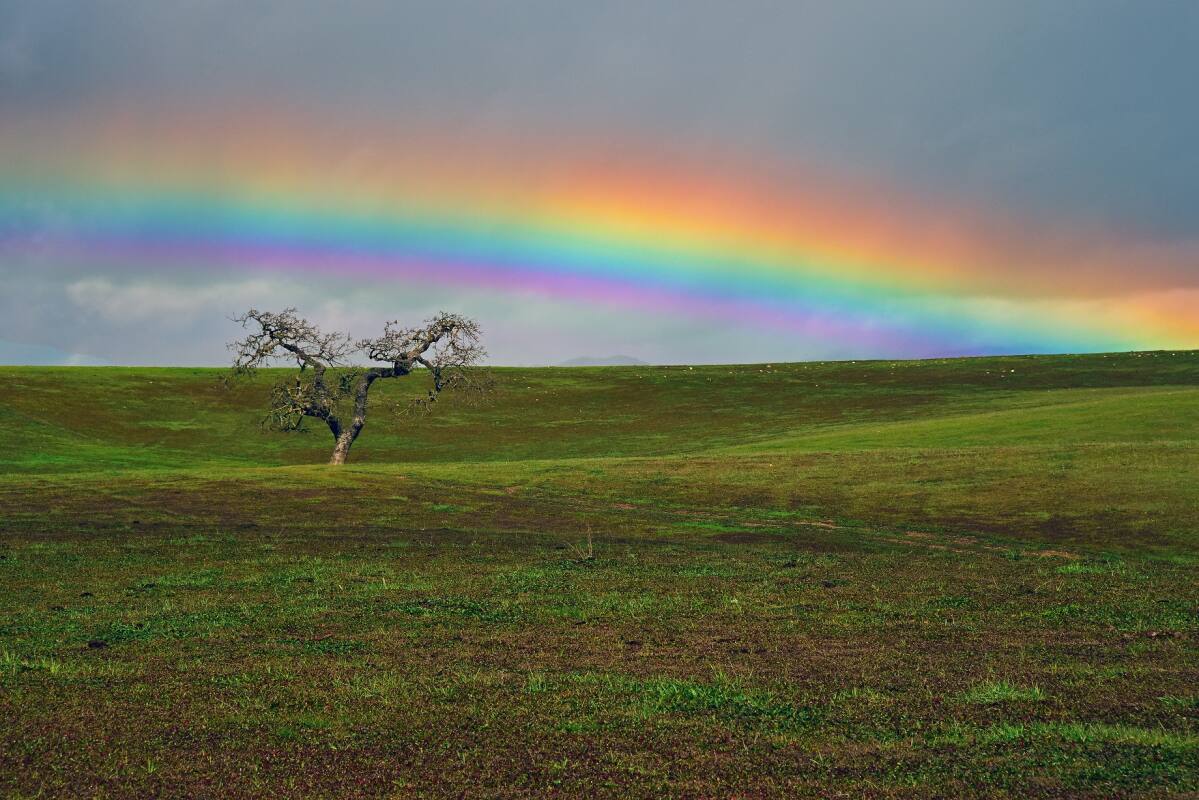 Through the ages poets, songwriters and visual artists have compared human emotions to time, like raindrops to tears: blue eyes crying in the rain, crying me a river, oh me alone with tears in my ears from lying on my back cry my heart over you. As a child, I wondered if the rain was God's tears, especially when it was pouring, flooding: was my anthropomorphic god sorry for having created mankind (think Noah's ark). Did the tears of rain express sympathy for our faults or our suffering? Yet other days I might "sing in the rain". Did my personal divinity offer relief for a drought, a long drought (real or metaphorical)? Maybe tears from above, like mine, could express joy, or the release of what has been held back for so long, what is sorely needed for sustenance? Californians pray for sufficient rains on our land, waterways filled; we cry for the rain. Are "atmospheric rivers" an answer to this call? Just as we might associate rain at a funeral with a divine simpatico, a week of rain might signal an answer to fervent prayers.
Throughout human history, religious or spiritual importance is associated with rain, often attributed to gods or goddesses. Zeus, for example, was the Greek god of the heavens, lord of thunder, lightning, and rain, with the power to wreak havoc, even death by rain, or to confer fertility, nourishment, and prosperity. In the dry and drought-prone regions of southwestern America, indigenous peoples, such as the Cherokee Nation, performed ritual dances to invoke the rains of the Great Spirit and eliminate evil spirits from among them.
This cleansing effect of rain and its necessity for the flow of life reminds me of the benefits of having "a good cry," a deep release from pent-up sadness, anguish or fear. "Un bon cri" (French), "un buen llanto" (Spanish) in any language is a way to lighten our load, to relieve bodily tensions. It can be exactly what the doctor ordered – or should have ordered. It can even cure skin disease, no lie! As a sophomore student therapist at UC Berkeley, working on my Masters in Psychiatric Social Work, I was assigned a client – a nurse with terrible eczema. His hands were horribly leathery, like elephant skin. She was forced to wear gloves to hide them while on duty. As a child growing up black in a racist America, her mother tried to make her daughter strong by forbidding her to cry, ever, for anything. I encouraged her instead, to honor her instinctive nature, to trust her vulnerability, to listen to him inside. She came to therapy one day, radiant: she had really cried! Torrential rain. She felt so relieved! So elated: nothing bad happened when she surrendered and let go; indeed, his skin cleared up, much to the astonishment of his doctor!
The pandemic has really given most of us good reason to cry deeply. Yes, the best is to bring awareness to it, a gentle presence when you let go. Testify rather than identifying with the "poor and miserable me" part. Then your good cry will be that nourishing rain that wakes you up, saying which deep needs deserve more attention, which needs nourishment. Your tears mingle with the light of truth to make a personal rainbow smile above your skies. Pot of gold at the end? Follow your heart (and enlist the help of a trusted professional, if you need it.) Maybe the treasure is the hope, comfort, peace, wisdom that rainbows inspire. . In 1939, they inspired the American "song of the century". Somewhere, Over the Rainbow, sung by Judy Garland in the musical The Wizard of Oz was composed by two Jewish immigrants, Harold Arlen and Yip Harburg. World War II, with its persecution of Jews seeking to escape a miserable ghetto or death camps, was the backdrop for the composition of this hauntingly beautiful song about the hopeful desire to to flee. It reminds me of another song I loved to sing from Cinderella / Walt Disney Studios: "Have faith in your dreams and one day your rainbow will come smiling." No matter how grieving your heart is, if you keep believing, the dream you want will come true. "A good prescription for 2022.
Put it into practice
"I AM A Rainbow" MEDITATION (For children too!)
When sunlight hits raindrops in the sky, it forms a rainbow. When the light of love touches me, I shine too, like a rainbow of love. Each of my 7 "chakra" energy wheels has a color and radiates, forming rays of light.
RED: The earth is my soil. I belong.
ORANGE: I am creative. I like to try new things.
YELLOW: I trust who I am, my instincts, my influence.
GREEN: I love you and me. I feel the joy, the peace, the generosity.
BLUE: I express my feelings and what matters to me with honesty and love.
INDIGO: I am intuitive, I see clearly. I choose wisely.
VIOLET / VIOLET: I am connected to the whole world. I am one with the universe